Joshua Harrison
Managing Director
Joshua directs all activities within the office and it's workflow. This covers initiating new conceptual work, principle design work, project oversight, technical design and on-site delivery. He also focuses on developing new relationships with clients and investors and advises on development matters with respect to planning, financial viability and overall feasibility.
When not working, he enjoys playing tennis, dining out, book shops, and catching up on industry news. Guilty pleasure; Friends, Frasier and Seinfeld. Favourite city: London. Favourite restaurant: any of the Grand Dames!
Kristine
Architect UAP
Kristine is a licensed senior architect (UAP) whose experience spans thirteen years, has interests in continuing to expand her architecture and design skills and knowledge. Previous architectural stints in Asian countries provided her the opportunity
to engage in several key projects, these helped to develop her curiosity in building and construction.
Her last with a Taiwanese architectural firm resulted in the garnering of several prestigious design awards including: IF Design, Best Design, and Red Dot Design in retail design.
She is passionate about experiencing architectural and the visual arts in a European setting.
Home away from home: Librantice
Alex
Architect
Alex has worked in the architectural field for 7 years and has experience in commercial, residential and arts fields. He was elected as a member of the Union Internationale Des Architectes in 2014 and joined our team in early 2017.
Favourite city: London.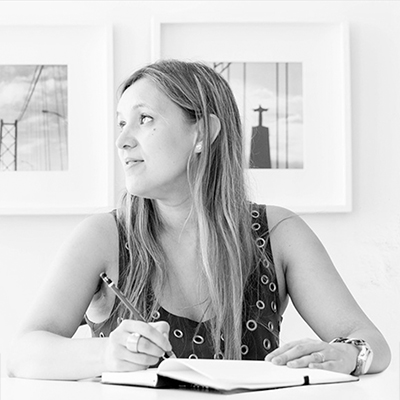 Joana
Architect ARB RIBA
Born in Lisbon in 1983, Joana graduated in Architecture in 2006 from the University of Lisbon. With a path touching on the fields of Architecture, Design, Training and Research, she has been practicing architecture since 2007, individually and in collaboration with architectural offices in Portugal, Belgium, Australia and the U.S.A. - New York and San Francisco. These collaborations have helped her to achieve a broad view of building processes and design options, especially for residential and retail spaces. She works alongside the director in overseeing and signing-off drawings before release.
Favourite architectural memory: Park Güell, Gaudi.
Our Architecture Practice
Collectively, our team has over 50 years of experience in efficiently delivering complex architectural work to the highest standard. Our portfolio highlights include Grade 1 listed buildings, contemporary residential properties cantilevered over a steep embankment, unique buildings within the AoNB and Green Belt and many others exciting schemes across London and the Home Counties.
Joshua read BA (Hons) architecture at London South Bank University and proceeded to work with Harper Downie Architects in the City. During this time and as part of a team at Harper Downie, among other projects, he worked on what was then largest development project in Europe, "Portonovi" in Montenegro, and a sequence of London hotels for the 'Z Hotels' chain.
Our team comprises a group of energetic and talented architectural designers – we are creative, ambitious and focused. We love to solve problems and find solutions to the problems you did not know existed.
Our clients are a fundamental part of every project and this dialogue between the parties forms a key component to delivering the very best results for your project.
Head over to the

News

page to see what we are up to.
Experience
Cohanim Architecture is a RIBA Chartered Practice who boast of wide-reaching experience on various building typologies, constraints and budgets. Our built portfolio demonstrates the consistent and efficient delivery of these projects. We are renowned for achieving planning permission in difficult scenarios including for sites in the Green Belt, Conservation Area's and many Grade 1 and Grade 2* listed properties.
Our team of professionals has gained planning permission for a multitude of clients and we have an extremely high success ratio with achieving planning for our clients. Our work in the years preceding 2021 has encompassed ultra-contemporary new-build dwellings, replacement dwellings in the Green Belt, contentious schemes taken on from previous Architect's who were unable to deliver the required planning permission, subterranean extensions, listed townhouses being converted into restaurants adjoining Regent Street, 5-storey properties in Paddington, among many others. We even secured planning permission and various letters of support from a multitude of bodies for one of the most prominent and prestigious Ecclesiastical buildings in Britain; St Lawrence Church in West Wycombe. The Grade 1 listed church was rebuilt in 1763 by Sir Francis Dashwood, 11th Baron le Despencer and this was the first consent for an extension secured against it since that date.
Professional Indemnity
We maintain professional indemnity insurance of £2,000,000.
Memberships & Regulatory Bodies
We maintain membership or affiliate status with various authorities and bodies, these include RIBA and ARB.
Some clients ask us about our company name, we hope that you find the following to be of interest.
Cohanim Architecture translates literally to "Priests Architecture" or "Priestly Architecture". One may choose to define this spiritually or rather in an ethereal sense with respect to the feelings architecture can conjure. With regards to the etymological story behind the word Cohanim; the noun Kohen is used to refer to priests in several of the Abrahamic religions.
Pronounced: "CO-HAN-EEM"