Joshua Harrison
Managing Director
Joshua directs all activities within the office and it's workflow. This covers initiating new conceptual work, principle design work, project oversight, technical design, on-site delivery and project management and developing new relationships with clients and investors.
When not working an 18 hour day, he enjoys meeting new people, programming, dining out, and general entrepreneurship. He is currently writing a book which is due to be published shortly. Favourite restaurant: I always loved Simpson's in the Strand.
Dan
Architect ARB
Dan works with the director to oversee and monitor all ongoing projects. He is a knowledgeable Architect with over 8 years of office based experience, and various architectural academic qualifications. Dan has experience in the United States, Australia and the United Kingdom. Dan will be leaving us in 2018 for new ventures, we wish him the very best!
Alex
Architect
Alex has worked in the architectural field for 7 years and has experience in commercial, residential and arts fields. He was elected as a member of the Union Internationale Des Architectes in 2014 and joined our team in early 2017.
Favourite city: London.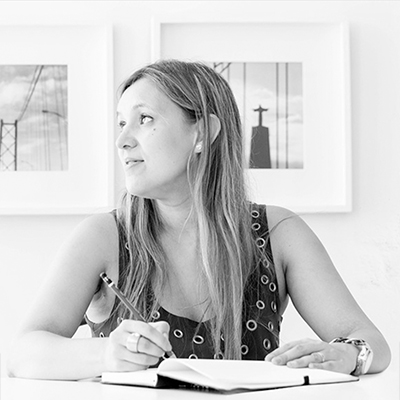 Joana
Architect ARB
Born in Lisbon in 1983, Joana graduated in Architecture in 2006 from the University of Lisbon. With a path touching on the fields of Architecture, Design, Training and Research, she has been practicing architecture since 2007, individually and in collaboration with architectural offices in Portugal, Belgium, Australia and the U.S.A. - New York and San Francisco. These collaborations have helped her to achieve a broad view of building processes and design options, especially for residential and retail spaces. She joined our team in December 2017.
Favourite architectural memory: Park Güell, Gaudi.
Team
Joshua Harrison founded and runs our practice. Collectively, our team has over 50 years of experience in efficiently delivering complex architectural work to the highest standard. Our portfolio highlights include Grade 1 listed buildings, subterranean contemporary homes, hotels and resorts that span the South-East and as far afield as Glasgow.
Joshua read architecture at London South Bank University and proceeded to work with Harper Downie Architects in the City. He decided to start and run his own practice initially as a part-time venture, but this naturally evolved into Cohanim Architecture.
During 2015, he worked on the largest development project in Europe, Portonovi in Montenegro by Triangle Developments, whilst at Harper Downie Architects. The Portonovi scheme is a world-class, mixed-use, integrated residential resort development which will include: Europe's first One & Only resort, Henri Chenot Wellness & Medical Spa, a substantial number of luxury residences in the form of detached villas and apartment blocks, and a world-class marina for yachts and super yachts. Simultaneously to this, and as part of a tight-knit team – a sequence of chic London hotels for the 'Z Hotels' chain. These have since been delivered efficiently and are now open to the general public.
Stevana, Dara and Aliana joined the team in February 2016. Stevana, originally from Serbia, had several hip restaurants already built as an Interior Architect prior to joining us. Aliana was employed as an Architect at CDMS Architects in Brighton. Following this, she worked with a firm in Barcelona. Dara gained her MArch 2 years ago, and supports our senior staff with her fantastic draughtsmanship abilities.
Our group is forward-thinking, bold and talented. We demonstrate a capacious level of industry knowledge, technical knowledge, creativity and design expertise. Relationships with our clients, and the end user, are highly important and we strive to build and maintain long lasting partnerships.
If you are interested in joining our team, you can forward a copy of your CV and portfolio to [email protected]
Company Ethos
Cohanim Architecture is a talented, detail-oriented group of Architects, architectural assistants and designers, who have come together to create an energetic company which consistently delivers fantastic architecture for our clients.
Our team of professionals has gained planning permission for a multitude of clients and we have an extremely high success ratio. We have won planning permission for Grade-1 listed buildings, Grade 2* listed buildings, residential projects, contemporary subterranean extensions, dental practices and more. We achieve fantastic customer service and superb architectural results through our unwavering and absolute dedication to each and every single project we undertake.
We believe that great architecture can inject energy into the workplace and also collectively inspire a town's population, as well as the individual bystander on the outside. A family home should makes its makers proud. Architecture plays a great role in sociology – it can be leading catalyst for urban regeneration. Our clients are a fundamental part of every architectural process which we are involved with. This inherent dialogue and relationship forms a key component in every project we are commissioned to work on.
A beautiful yet functional building will be built on solid foundations. A great society is built on and represented by great architecture. Architectural excellence is our par for the course.
Experience
Cohanim Architecture is a RIBA Chartered Practice who boast of wide-reaching experience on various building typologies, constraints and budgets. Our built portfolio demonstrates the consistent and efficient delivery of these projects. We are renowned for achieving planning permission in difficult scenarios including on many Grade 1 and 2* listed properties.
Cohanim Architecture recently secured planning permission and various letters of support for one of the most prominent and prestigious Ecclesiastical buildings in Britain, St Lawrence Church. The church was rebuilt in 1763 by Sir Francis Dashwood, 11th Baron le Despencer. The project ran exceptionally smoothly from inception due to our dedicated and knowledgeable team and close client-side collaboration. This fantastic approach has resulted in letters of approval from English Heritage and other parties, and we have recently broken ground signalling the start of construction.
Other projects in our catalogue of experience include Fann St., Barbican during the project's early stages whilst at Harper Downie Architects, as well as 'The Artworks'. The Artworks is a vibrant shipping container scheme in Elephant and Castle. It is built on a section of the site where the soon-to-be-demolished "Heygate Estate" resides.
Concluding, we have designed contemporary property in and around the South-East, worked on 200+ home high-density schemes in central London, .4bn international resort developments, run projects on Grade 1 & 2* listed buildings, creating history at the same time, and we do all of this with absolute dedication to each and every project.
We invite you to discuss your project or development opportunity over coffee with our team of professionals today.
Workflow
The office is currently focusing its efforts on the historic Grade 1 Listed St Lawrence Church, perched on top of the Chilterns countryside hills, in an Area of Outstanding Natural Beauty, St Botolph Church – a Grade 2* Listed building, a contemporary extension and renovation of a property in High Wycombe, and a £15m masterplan in Chesham.
Professional Indemnity
We maintain professional indemnity insurance of £2,000,000. Proof of insurance shown on request.
Memberships & Regulatory Bodies
We maintain membership or affiliate status with various authorities and bodies, these include (as of April 2017) RIBA, ARB, SPAB, The Victorian Society & HRBA, among others.

Many people ask us about our name, we hope that for the one who is curious, he or she may find the following to be of interest!
Cohanim Architecture translates literally to "Priests Architecture" or "Priestly Architecture". One may choose to define this spiritually or rather in an ethereal sense with respect to the feelings architecture can conjure.
With regards to the etymological story behind the word Cohanim; the noun Kohen is used to refer to priests in several of the Abrahamic religions, as well as the priests of Baal.
In Christian theology of the priesthood of the baptised, all members of the church are considered Kohanim, and the priest is considered an icon of the Eternal High Priest.
Jewish Kohanim are traditionally believed to be of direct patrilineal descent from the biblical Aaron.
In the Samaritan community, the Kohanim have remained the primary religious leaders.
Pronounced: "CO-HAN-EEM"